The Real Deal with Shawn D. Connelly
Emphasis on the "D"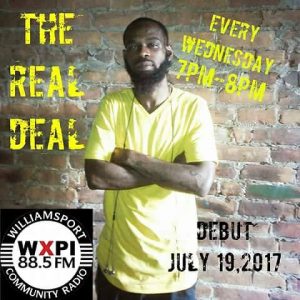 "The Real Deal" is set to be an access point to information, and give the younger generations a connection to reality in a hip way.  Keeping up with trendy topics, politics, race, religion, and community.  Here we provide a platform for the people to express their views on how these topics affect the millenial community.  If you want to know who's – who and what's – what "The Real Deal" is your hookup!
Your Host, Shawn D. Connelly
Shawn D. Connelly is from Philadelphia, PA where he attended Girard College, later moving to Williamsport, PA in the mid-90's.  As a teenager, he ran into legal troubles, which as an adult, he turns his experiences into a way to better his community.  Shawn has led various groups such as the Campbell Street Community Center Youth Board, and has served as President of the Penn Tech Multi-Cultural Society.  Seeing a community through struggles and the people feeling like they want to speak up, Shawn has decided to come to the radio to share the platform as a community.
Your Co-Host, E. Serious
Eric Serious was born in Philadelphia and moved to Williamsport in the early 90's. At age 15, he began to rap and record music, and is well known in the community for his creative talent. Seeing the town that was once heavy on drug rehabilitation become over-run with drug use, he hopes to shine light on the subject by using the show as a platform to do so.
The Real Deal airs live Wednesdays at 7:00 PM at the WXPI Community Radio studio in the Pajama Factory.  Feel free to call in at (570) 995-6435