Let's Talk
Award-winning show "Let's Talk" with Paige Delahaye returns to WXPI Community Radio every Monday at 6:00 PM to provide a safe environment to exercise First Amendment Rights, raise issues of community interest and give the young and seasoned members of our community a VOICE!
Your Host, Paige Delahaye
Hello, Williamsport!  I've been a resident of this community for 20 years.  I was a physical therapist in the local hospital and nursing homes.  My career as a therapist was very satisfying.  I graduated in 2008 from Lycoming College with a Bachelor's degree in Religion and a Minor in Psychology.  I am a licensed Financial Professional and a Community Activist.  I am the founder of Women of Influence and the Co-founder of Community Connection.  I developed the Award Winning show "Let's Talk" and co-host "The Way of the World".  I am very happy and proud to be a part of the WXPI community radio family.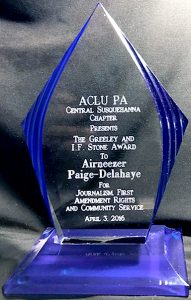 Let's Talk was created in 2015 with the encouragement from my dear friend and mentor, Warren Earl.  In 2016, with only seven months on the Air, the ACLU bestowed, "The Greenly and I.F. Stone Award" for Journalism, First Amendment Rights and Community Service.  It was a surprise and an honor to receive such a prestigious award.
Let's Talk will be back On the Air and online as we engage the community to raise a tower and to raise our collective voice.  You too can have a show and develop a platform from which to spring your ideas.