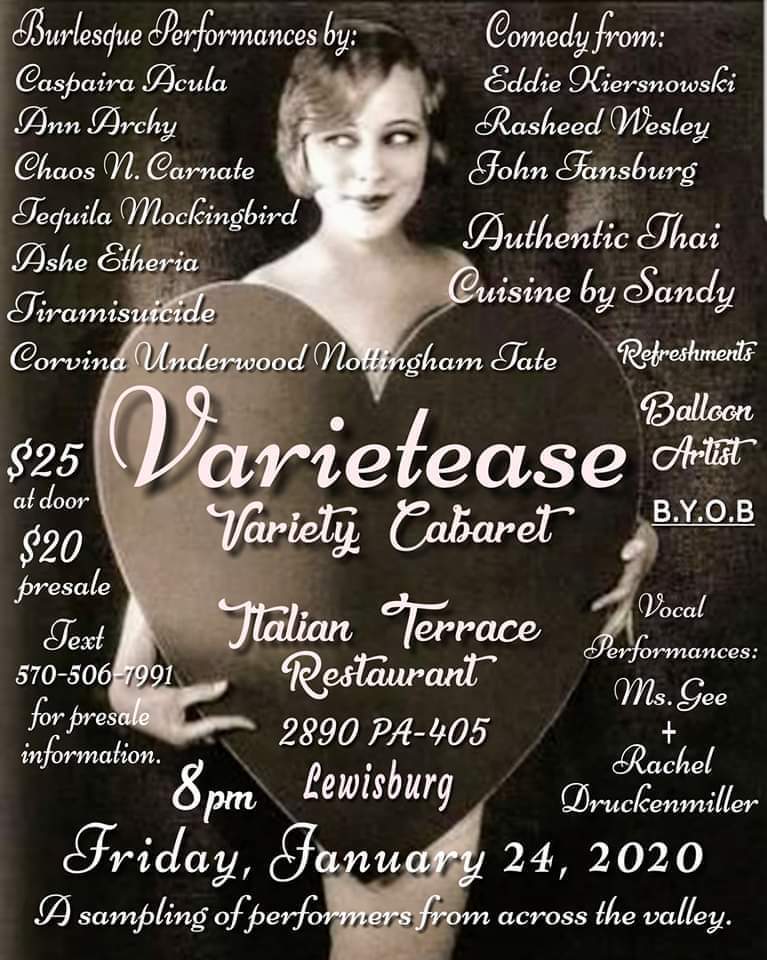 Varietease the top burlesque organizer in the greater Williamsport area is bringing their unique brand of entertainment to the Milton/Lewisburg area.
A night of carefully curated performances with light tapas faire. Three comedians, one balloon artist, seven provocative burlesque performances, and two of the most noteworthy vocal artists of Central Pennsylvania.
Friday, January 24, 2020 @ 8pm
Italian Terrace Restaurant
2890 PA-405, Milton
$25 at the door, $20 presale.
B.Y.O.B.
Ticket link: https://www.eventbrite.com/e/varietease-presents-a-variety-cabaret-tickets-88570584001
Refreshments include: Authentic Thai Cuisine by Sandy. A dessert bar by Tiramisuicide. Pizza made by a bona fide Italian Chef.
Burlesque Performances by:
Tequila Mockingbird
Corvina Underwood Nottingham Tate
Ashe Etheria
Tiramisuicide
Ann Archy
Caspaira Acula
Chaos N. Carnate
Comedy from:
Rasheed Wesley
Eddie Kiersnowski
John Fansburg
Vocal Performances by:
Ms. Gee
Rachel Druckenmiller
Varietease is always looking to highlight new acts. Please follow them on Facebook for more info.