CONGRATULATIONS TO OUR WINNERS!
It's Sunday Night, and time to announce our winners! To all who liked and shared our post, we drew winners randomly and we congratulate our winners: Katy Ells, Fay Brennan and Richard James! Please contact the station to pickup your tickets! Thank you everyone for participating and we hope you have an enjoyable evening!
A Special Thanks to WCCA
Special Thanks to The Williamsport Community Concert Association for providing the tickets!
Find them online at williamsportcommunityconcerts.org
Love music? We do too!
WXPI Radio thanks all of our fans for their support and in appreciation, we have tickets to the upcoming Williamsport Community Concert Asso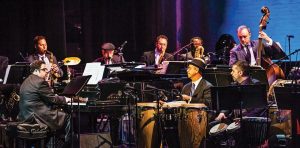 ciation's event, ARTURO O'FARRILL AND THE AFRO LATIN JAZZ OCTET ,at 7:30 p.m Nov 15.
All you have to do is Comment, Like and Share on Facebook! Three winners will be chosen at random on Nov. 12 from the WXPI Radio Facebook page. See it here >>>
ABOUT THE AFRO LATIN JAZZ OCTET
Direct from New York's Birdland — multiple Grammy-winning pianist/composer Arturo O'Farrill and his renowned band! Hailed by The New York Times as "the leader of the first family of Afro-Cuban jazz," Arturo's fusing of "dizzyingly complex music with earthy joy" and the studied genius of decades of masterful Cuban musicians with superb jazz improvisation will fuel an exhilarating and unforgettable evening.
Good luck!