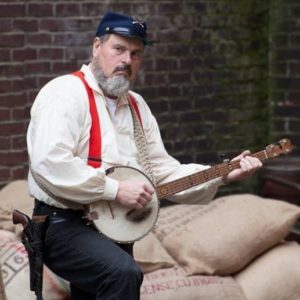 "I'm very happy to present this week, the 100 anniversary show of my Old Time Music Hour. I've played Old Time Music for almost 40 years but never dreamed that one day I would  produce a radio show focused specifically on Appalachian old-time music. I've been very fortunate over the years to have some great teachers on the banjo and to make so many wonderful friends in the community of old-time music.  I'm also very pleased to be able to broadcast on WXPI radio to my listeners in the Susquehanna Valley where I reside.
The old-time music hour is my gift to my mentors, my fellow musicians and to my listeners. It has been my experience performing this music in nursing homes, in concerts and playing benefits, that when people are exposed to this music, it truly does bring joy and happiness to their lives. Many people confuse Old Time Music with bluegrass, not knowing or understanding that this was the first American music, the melding of the Celtic fiddle with the African banjo from 1700-1900. It was the music of the community square dances long before radio and television when folks gathered together to hear their local musicians, dance, eat, drink and socialize after a long hard week. Many of the tunes I am playing on my shows were never written down and were passed down through families and friends and some eventually recorded by early field recorders who saved so much of this music that would've been lost forever. Old Time Music is the music of the American Civil War and I have played may tunes on my shows from that era. All of my shows are available on the internet with the link on wsovradio.org along with playlists for each show and contact information for the artists. I encourage my radio listener's to check it out at their leisure to enjoy more of this great music.
It has been my goal on my shows to present a variety of fiddle and banjo tunes, songs, and ballads that you may not hear anywhere else. Being a field recorder myself, I have played many of my own recordings from old-time music festivals, old-time jams and from my tour in Ireland in 2018. Many of my friends in the old-time music world have sent me there recordings to share with my listener's. So I decided early on, to start doing CD reviews of new CD's and older CDs that I felt deserved more attention. My CD reviews also added a different flair to my shows by helping artists give more exposure to listeners that appreciate Old Time Music. I strive to play latest progressive and traditional Old Time Music always including new compositions that sometimes find me through the internet. I have also produced special shows from Festivals so folks can enjoy hearing live music also along with interviews of featured artists. Many talented musicians in the Old Time Community are trying to make a living playing this music so I always encourage my listeners to support the artists.
It has been my pleasure to broadcast the Old Time Music Hour, daily Monday thru Saturday on WXPI radio at 1 PM with live streaming.  WXPI is our local community supported non-profit station on 88.5 FM and I hope my listeners will spread the word about my shows so more people can experience the fun and enjoyment of Old Time Music and enjoy more of the great programming on WXPI.
My Old Time Music Hour is also broadcast and streamed daily at 11:00 AM on WSOV 101.7 FM in Millheim, our fellow non-profit community supported station.
On my  100th Anniversary Show I am happy to play you my very favorite tunes and songs and I hope you will continue to listen to my weekly my Old Time Music Hour.
Thank you for your support of WXPI and Old Time Music."
– Bill Smedley, Host OTMH